Historic Victory for Drunk Driving Victims Has Saved Thousands of Lives
WASHINGTON — Friday, Oct. 23 marks a significant milestone as Mothers Against Drunk Driving (MADD) celebrates the 20th anniversary of President Bill Clinton signing the .08 BAC national standard into law. The bill was signed in the White House Oval Office with MADD National President Millie Webb, whose family was devasted by a .08 BAC drunk driver, and several other MADD victims.
The.08 BAC law remains one of MADD's most significant legislative achievements. The law continues to make roads safer to this day.
"When my family was hit by a .08 BAC driver, killing my 4-year old daughter Lori and my 19-month-old nephew Mitch, and injuring me, my husband Roy and my unborn child Kara, it was not considered a crime," said former MADD National President Millie Webb. "While I was waiting with President Clinton to walk out to the Rose Garden ceremony, I told him my job was to just introduce him and not share my story, but I wanted him to know what this day meant to me and so many other .08 victims. I told him that when I found out Mitch and later on Lori had died and were already buried, because of my burns I couldn't even raise my hand to wipe my tears. And tears were like salt to an open wound. He took my hand and said, 'Millie, that's what the world needs to hear.' And so I told a little bit about my story and I'll never forget that. It is our stories that give MADD so much power to make change."
MADD was proud to work with Congressional champions like the late Senator Frank Lautenberg, former Representative Frank Wolf, Representative Nita Lowey and many others on getting this bill through. We were also proud to work with former U.S. Department of Transportation Secretary Rodney Slater, who led the Administration's initiative in support of .08 BAC.
Today, the .08 BAC national standard remains the law of the land.
"We have made tremendous strides in reducing the number of drunk driving deaths and injuries since MADD's founding 40 years ago, thanks to the tireless dedication of many victims and leaders who have fought hard for lifesaving laws like .08," said MADD National President Helen Witty. "With 10,000 people still killed every year in preventable drunk driving crashes, we continue to work toward the elimination of this crime with Congress to pass legislation to require advanced drunk driving prevention technology in all vehicles. This technology would save 9,400 lives each year when fully implemented."
MADD thanks current Congressional champions, Representative Jan Schakowsky, Representative Debbie Dingell, Senator Rick Scott and Senator Tom Udall for their commitment and leadership in advancing legislation that would mandate drunk driving prevention technology systems in all vehicles. In July, the House included a drunk driving technology mandate in their surface transportation legislation. MADD is hopeful that the Senate will also recognize the value of this legislation and the potential to save more than one-quarter of all annual highway deaths.
"I am humbled every day by the incredible change effected by so many victims of this violent, preventable crime. MADD's history of putting a name and face to the victims of drunk driving is more important than ever as we work to eliminate drunk driving once and for all," Witty added.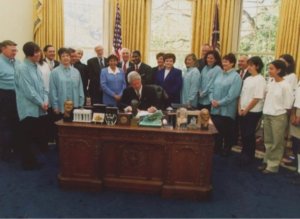 About Mothers Against Drunk Driving
Founded in 1980 by a mother whose daughter was killed by a drunk driver, Mothers Against Drunk Driving® (MADD) is the nation's largest nonprofit working to end drunk driving, help fight drugged driving, support the victims of these violent crimes and prevent underage drinking. MADD has helped to save more than 390,000 lives, reduce drunk driving deaths by more than 50 percent and promote designating a non-drinking driver. MADD's Campaign to Eliminate Drunk Driving® calls for law enforcement support, ignition interlocks for all offenders and advanced vehicle technology. MADD has provided supportive services to nearly one million drunk and drugged driving victims and survivors at no charge through local victim advocates and the 24-Hour Victim Help Line 1-877-MADD-HELP. Visit www.madd.org or call 1-877-ASK-MADD.