Why We're Here: Nick Townsend Read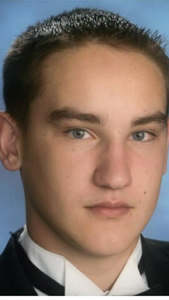 Nicolas Townsend Read had an incredible depth of faith and love for God, country, and family. He knew what he wanted and he wasn't afraid to chase his dreams. At 17, in addition to playing soccer, he was actively involved in the Portland High School Panther Nation club and Young Marines. He planned to join the National Guard and eventually become a Portland police officer when he reached the application age of 21.
His mom, Tanya, says he had a "beautiful generous heart," was willing " to fight for his beliefs", and that " he lived life to the fullest and loved without reservation." It was probably these qualities that lead him to join his girlfriend, Anna, and her family to volunteer at the Special Olympics in Nashville on May 15, 2015, the night before his high school graduation.
They were on the way home, with Anna's mom driving and Nick & Anna in the backseat. They were following Anna's dad and her younger sister in the car in front of them. They were about 5 miles from Nick's house when an impaired driver with a BAC of .119 crossed the center line and hit the car Nick was in head-on. They were hit so hard that the the car flipped and landed on the driver's side. All three occupants were injured, but Nick was the most critical. He had been thrown between the front seats and had sustained massive head and facial trauma.
Tanya and her husband, Ryan, had been celebrating their wedding anniversary on the General Jackson in Nashville that night and were on their way home when they got the call from Anna's dad, who had witnessed the entire wreck. Tanya says she went into shock at the news. Nick had been rushed to Skyline Medical Center. When they arrived at the hospital, she saw that her handsome son was nearly unrecognizable. They spent three days with him in the hospital before he finally succumbed to his injuries.
Tanya says she was on auto pilot the entire time in the hospital and throughout the visitation and funeral. It was the only way she could continue putting one foot in front of the other. Four years later, she is still haunted by nightmares with visions of Nick's severely damaged head and face. She is plagued by "what if" questions and thoughts about his final moments before the crash. She says she has watched her family struggle to come together. No matter how joyous the occasion, they are always aware of the empty chair, of how much Nick is missing.
In his free time, Nick had spent a lot of time with his little sister. But he was very close to both of his sisters, his dad, and his mom. He loved to read, but he also loved shooting Airsoft guns and playing video games with his best friends, Kenneth and Dylan, and just hanging out with his girlfriend.
His loss was felt by an entire town. The Portland Police Department even named him an honorary police officer posthumous. Several fellow classmates, classmates of his siblings, Portland police officers, and government officials came to honor him at a ceremony with friends and family when a State Memorial Sign was erected at the crash site in his memory.
Tanya says one of the things she remembers most about him is the way he loved her. She also loved his sense of humor and quick wit. She calls him her "old soul" and said that he has continued to change lives even four years after his death. " The world was robbed of so much when Nick was senselessly killed."