Creating a Future of No More Victims® in Connecticut

Mothers Against Drunk Driving is more than just mothers. We're fathers, sisters, brothers, families, and friends. We're truly a grassroots organization, made up of people like you who care about making an impact in Connecticut to keep your loved ones safe.
MADD works tirelessly to support victims at no charge, advocate for stronger laws and create a future of No More Victims®.
Donate to MADD Connecticut
AND SAVE A LIFE TODAY

Connecticut VICTIM SERVICES
A person's life is forever changed following a drunk or drugged driving crash. Many victims and survivors are left without work, not knowing what to do or where to turn. That's where MADD Connecticut steps in.

MADD provides as many services as possible to victims of drugged and drunk driving crashes all at no charge.
Here's How We Help:
To be put in touch with a MADD Victim Advocate in your area or if you
need to speak with someone immediately, call
24-HOUR VICTIM/SURVIVOR HELP LINE
MADD About Morgan Evans
Fri, October 13th, 20:00PM
MADD Connecticut
Mohegan Sun
1 Mohegan Sun Blvd.
Uncasville 06382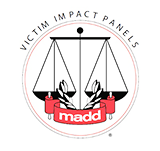 ONLINE VICTIM IMPACT PANELS
See if your area qualifies for the online panel
The Online Victim Impact Panel Class is not eligible for those sentenced in the states of Arkansas and Oklahoma.
FIND AN IN-PERSON VICTIM IMPACT PANEL
Helping drunk and drugged driving offenders understand the lasting and long-term effects of substance impaired driving.
/*! elementor - v3.14.0 - 26-06-2023 */
.elementor-widget-image{text-align:center}.elementor-widget-image a{display:inline-block}.elementor-widget-image a img{width:48px}.elementor-widget-image img{vertical-align:middle;display:inline-block}